Mission appearances
Edit
"Prologue" / "Bury the Hatchet" - Frozen Alien
Edit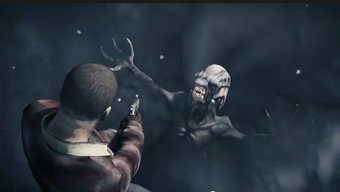 The frozen alien is the first
easter egg
the player can encounter in the game. During the very first mission, once you get in the SUV, drive off the side of the road to the right and into the frozen creek, and under the bridge you will find an alien frozen in
This particular alien will bear a strong resemblance to the encounters seen throughout the rest of the game.
"Grass Roots: Michael"
Edit
"Did Somebody Say Yoga?"
Edit
Other in-game appearances
Edit
Richards Majestic movie costumes
Edit
First seen during the mission "Franklin and Lamar", both characters of the same name repossess vehicles for Simeon, and eventually pass through the Richards Majestic movie studios. The player can choose to hit or avoid the actors in alien costumes, whereas avoiding them will grant the player the "We Come in Peace" objective for the mission.
Lord Zapho
Edit
Lord Zapho is the unseen alien leader mentioned throughout the game. He is first mentioned by a unique encounter in the Simeon mission "Repossesion", then is later mentioned a few times by Ron on his radio show. Also he is mentioned by the same person from the previous unique encounter in the Devin mission "Eye in the Sky"
Los Santos 2020 movie poster
Edit